Publications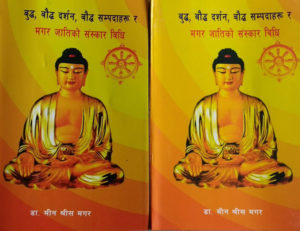 This issue is about the Buddha's teachings and the rites of Magars.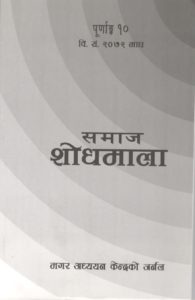 This issue is focussed? on the cultures of Magars.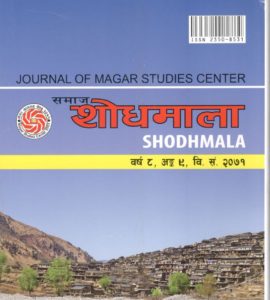 This issue is about the names of places in Magar language.
May 2014-This is a Ghatu special issue
Kartik 2071 issue-This is Dasain special issue
March 3, 2012 (20 Fagun 2068): Magar Studies Center published the book of Mr. Bishnu Sinjali entitled,'Magar Dhutang Kurakani' (Conversation in Magar (Dhut) Language, 3rd edition.
Min Shris Magar's Ghatu, a book on Magar dance which was published by Magar Studies Center, was released on Magar Day at Kathmandu, Nepal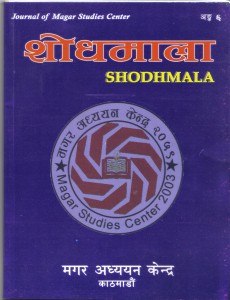 Feb 2, 2013 (20 Magh 2069): Magar Studies Center organized a seminar on Environment and Community Forestry in which Dr Yam Malla, Country Representative IUNC-Nepal, presented the paper. Chairperson Dr. Thapa and Dr. Malla jointly released the VI number of Shodhmala–research series of the Center.
Jan 30, 2012 (16 Magh 2068 BS): The Chairman of Magar Studies Center released its new edition of Shodhmala (Vol V, No. 1).
The articles of this volume are:
Slavery in Nepal – 1925 abolishment
Maghe or Makar Sakranti celebration in Nepal and India by Dr. Govind Prasad Thapa
Smritima Dr. Budha Magar by Gupta Bahadur Rana
Ghiu-chakuko chad by Tejesworbabu Gwong
Maghe Sakranti by Chetan Karki
Magarjatiko Maghe Sakranti parva by Lok Bahadur Thapa Magar
Maghe sakranti?Magar jatiko rastriya chad, Bom Kumari Budha Magar
Some Magar places and river names in West Nepal by Ananda Prasad Shrestha
Magarat bahira Magar chhabi by Hiranya Lal Shrestha
Maghe sakranti sanskriti by Nijiros Shrestha
Magar samudayama Maghe Sakratiko Swasthya sambandhi mahatwo: Syangja ko Tamkikot pahadko aspaska Magar samudayako ek bisleshan by Bishnu Kumar Sinjali
May 2011(Jestha 2068): Magar pujari raheka prasiddha tirthasthal haru, by Mr. Min Shris Magar, Published by Magar Studies Center
Oct 9, 2010(23 Aswin 2067): The Center released the Volume IV, Number I of Shodhmala, the Journal of Magar Studies Center. Ms. Ambika Regmi, linguist and PhD candidate, presented her short comments on the thesis of Maya Daurio entitled 'Exploring Perspectives on Landscape and Language Among Kaike Speakers in Dolpa, Nepal'.
The articles in this number are:
1.Nepal's Naya Muluk and the Gurkha Regiments: Lest History Forgets by Santa Bahadur Pun
2.Exploring Perspectives on Landscape and Language Among Kaike Speakers in Dolpa, Nepal by Maya Daurio
3.Magar Samudayama Prachalit Lokgit Nrityako Bartaman Awastha ra Chunautiharu by Min Shris Magar
4.A Brief Study of Social Political Scenario of Sikkim on the Eve of Indian Independence by Rajen Upadhyay
5.Magar Ranke Raja ra jaichan Kajiko Itihas by Yam Bahadur Pun Magar
6.Buddhist Sanskrit Manuscripts-Glory of Newar Buddhism: Its Nature, Contexts and Proliferation by Dr Shanker Thapa
7.Gayak Mitrasen: Bismritikaranka Chunauti by Prakash Sayami
8.Bhawi Sambidhanko Nirman: Hamro Apekchha ra Dayitwo by Umesh Bahadur Rana Magar
9.Syangjako Tamikot Pahadko Aspaska Magar Sanskritima Swasthya Sambandhi Awadharanaharu: Ek Adhyan by Bishnu Kumar Sinjali Magar
Jan 30, 2009(2066 Magh 16): On the seventh anniversary day, Magar Studies Center organized a program at Mahila Prasikshan Kendra, Lalitpur. A book entitled 'Paschimanchal bikas chhetraka Magar samudayama prachalit lokgeet nrityako awastha ra chunauti haru' (the status of western development region folk songs and folk dances among Magar community and challenges) researched and written by Min Shris Magar and published by Magar Studies Center was released. Mr. Min Shrish Magar presented the theme of the book on this occasion.
The Chairman Dr. Govind Prasad Thapa released the Vol III, Number I, a Special Number of Shodhmala was published by the Center with the political theme: Constitutional Assembly Election and Constitution Writing.
March 17, 2007: The Volume II Number I of Shodhmala, Journal of Magar Studies Center published. The highlights of this issue are:
Magarat Heartland of NCP Maoists The Connectivity by Sant B. Pun
Causes and impact of Conflict among Magars in Western Nepal by Shyamu Thapa
The Research Report on the Athara Mangaratka (Dolpa, Rukum And Rolpa) Magarharuka Paramparagat Sanskar Tatha Dharmik Aastha by Krishna Bahadur Chhantel
Mankamana Devi Ko Mandirra(Magar Pujari) by Rashmi Thapa
Magarjatiko Nalibeli by Prof Dr. Rajaram Subedi
30 Jan 2006(17 Magh 2062): Volume I Number I of Shodhmala, a research series, was published. This volume contains the following articles:
Magar Adhyan Kendra: Bigat dekhi Bartaman Samma by Dr. Govind P. Thapa
Nepalka Adivasi-Janajati Haruko Jansankhik Sthiti: Samasya ra Chunauti haru by Sobhiyat B. Rana
An Autopsy of an Ode to the Gurkhas by Sant Bahadur Pun
Amar Byaktitwo: Master Mitra Sen by Gupta Bahadur Rana
On Magar Identity and Autonomy by Marie Lecomte-Tilouine
Nepalka Pramukh Bansaj Haruma Bharselira Bhujengeli Shrisko Purkhyoli Bindu by Min Shris;
Nepalma Jatiya Bibhedle Janjatima Pareko Asar by Krishna Bahadur Chhantel
Magaranti Sahitya: Sanchhipta Charcha by Yam Simjali Magar
Hurra Nacnch by Umesh Bahadur Rana Magar
Magars in the eyes of Western Writers: A Socio-Anthropological Review by Dr. Govind P. Thapa
March 12, 2005 (29 Fagun 2061): Magar Studies Center endorsed publication of Kham Magar Pang-Nepali-English Dictionary written by Mr. Jukti Prasad Pun Magar. This dictionary is the first of its kind. It will be very useful for researchers, linguists, and those interested in linguistics.
The copies of the Journal are available on payment. Please send your requests direct to info@magarstudiescenter.org.np